Heo Yeon-kyung breaks Korean record in women's 50m freestyle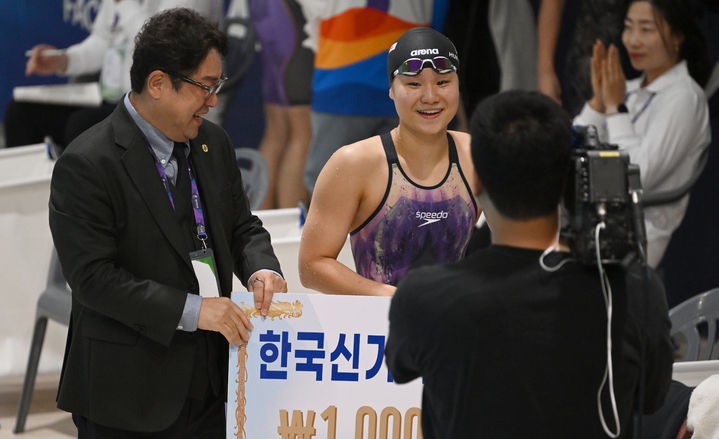 Swimming Women's High School Freestyle 50m 24.97 seconds
0.11 seconds faster than Jung So-eun's 2019 record of 25.08
National swimmer Heo Yeon-kyung (17-Bangsan High School 3) has broken the Korean record in the
women's 50-meter freestyle for the first time in five years.
According to the Korea Swimming Federation, Heo won the 50-meter freestyle final in the women's high
school category at the 104th National Games in 24.97 seconds on Friday afternoon at the Mokpo Indoor
Pool in Mokpo, South Jeolla Province.
Her time of 24.97 seconds was 0.11 seconds faster than the time of 25.08 seconds set by Jung So-eun (27
, Wolsan City Hall) when she won the women's general category at the 2019 National Games.
The previous record holder, Zheng Soeun, won the women's general category in 25.53 seconds.
"I can't believe I'm the first Korean athlete to break 24 seconds," said Heo after the ceremony.
"I'm still too young to compete in the 50 meters at the international level, so I've been thinking for a long
time that I should focus more on the 100 and 200 meters," Heo said. "In the future, I will think about
becoming a complete athlete in the short distances and make more efforts."
In the men's 50m freestyle final, Asian Games gold medalist Ji Yoo-chan (21-Daegu City Hall) won in 21.87
seconds, a new meet record. Second place went to Kim Jin-won (23, Daegu City Hall) in 22.16 and third
to Yang Jae-hoon (25, Gangwon Provincial Office) in 22.34. 스포츠토토맨