Svitolina-Azarenka matchup 'no handshake' ahead of time
Ukraine's Svitolina refuses to shake hands with Russia-Belarus players after war breaks out
'No handshake' message displayed on billboards before first inning of DC opener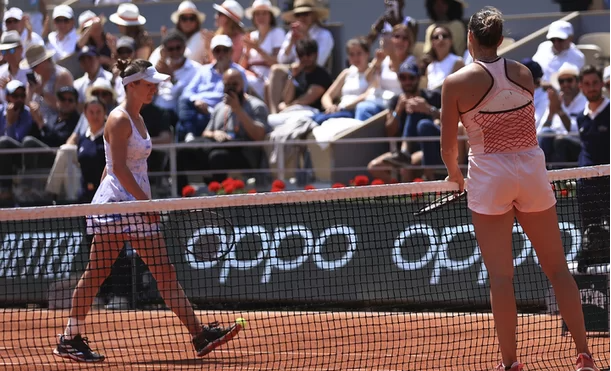 Ahead of the match between Ukrainian Elina Svitolina (No. 27) and Belarusian Victoria Azarenka (No. 19), the words "Players do not shake hands after the match" were displayed on the scoreboard.
Svitolina defeated Azarenka 2-0 (7-6<7-2> 6-4) in the first round of the singles main draw at the Women's Tennis Association (WTA) Tour's Mubadala City DC Open in Washington, D.C., on Monday.
It was the first meeting between the two players in nearly three weeks after they met in the round of 16 at Wimbledon last month. Svitolina won 2-1 (2-6 6-4 7-6<11-9>) in the round of 16 at Wimbledon.
At the time, Svitolina refused to shake Azarenka's hand after the match, prompting some fans to boo her.
Svitolina has not shaken hands after matches with players from Russia, which invaded Ukraine in February last year, or Belarus, which sympathized with Russia.
A similar scene played out at the French Open women's singles quarterfinals in early June. Svitolina refused to shake hands with Belarusian player Arina Savalenka (No. 2) after her 0-2 (4-6 4-6) loss, and was booed by the crowd.
When this happened again and again, the DC Open announced to spectators in advance that there would be no handshakes.
"There will be no handshakes after this match. Please be respectful of both players during and after the match," it read. The same message appeared on the board after the first set.
The announcement had some effect.
"After the match, Svitolina and Azarenka headed straight to the benches, where they were greeted with applause from the stands," 카지노사이트 the Associated Press reported, "with some fans waving Ukrainian flags."
The WTA Tour has not yet decided whether it will make such announcements whenever Ukrainian players face Russian or Belarusian players in the future.
Svitolina will face Russian Daria Kasatkina (No. 11) in the second round.